This article contains a list of all previous ProMAX Products and their service coverage dates and last support software versions.
Direct Attached Storage
ProMAX previously sold many different versions of direct attach storage under several brandnames. Products came in several configurations known as FireMAX, SataMAX, FastMAX, and ProjectStor. All of these devices are no longer in production and are no longer supported directly by ProMAX.

ShareMAX Storage Systems
ProMAX previously sold a basic shared storage system under the brand of ShareMAX and ShareMAX 2.0. These systems are no longer in production and are no longer supported directly by ProMAX.

Cache-A Archive Appliances
In 2014 ProMAX Acquired Cache-A Systems, a maker of LTO archive appliances. ProMAX continued manufacturing the Prime-Cache, Pro-Cache, and Power-Cache under the Cache-A name for a short period before redesigning and rebranding them as ProMAX products. This section refers to legacy units that are black in color and specifically branded with Cache-A logo on the front of the system.

ProMAX Archive Appliances
ProMAX fully adopted and updated two of the three original Cache-A Archive Appliances, the Pro-Cache and the Power-Cache. Both of these redesigned units were recolored into a dark grey color and featured a ProMAX logo on the front of the system.
NOTE: Some early redesigned units utilized the CentOS operating system of the legacy Cache-A appliances, however ProMAX discontinued Support for the CentOS version of the systems in 2018. All redesigned ProMAX branded Pro-Cache and Power-Cache units can be upgraded to run Platform Software up to v5.6 on Windows Server 2016.
ProMAX ONE Workstations
ProMAX ONE and ONE+ (One Plus) workstations are no longer produced by ProMAX and extended support for them has ended.

ProMAX Platform Workflow Servers
ProMAX Platform Servers represent several models, most of which are still in ongoing support. Only the first generation Platform X/Y/Z and Studio X/Y models have a listed End of Support date upcoming on 1-JAN-2020. While many older generations are out of production, all other Platform systems will continue to be supported for the foreseeable future.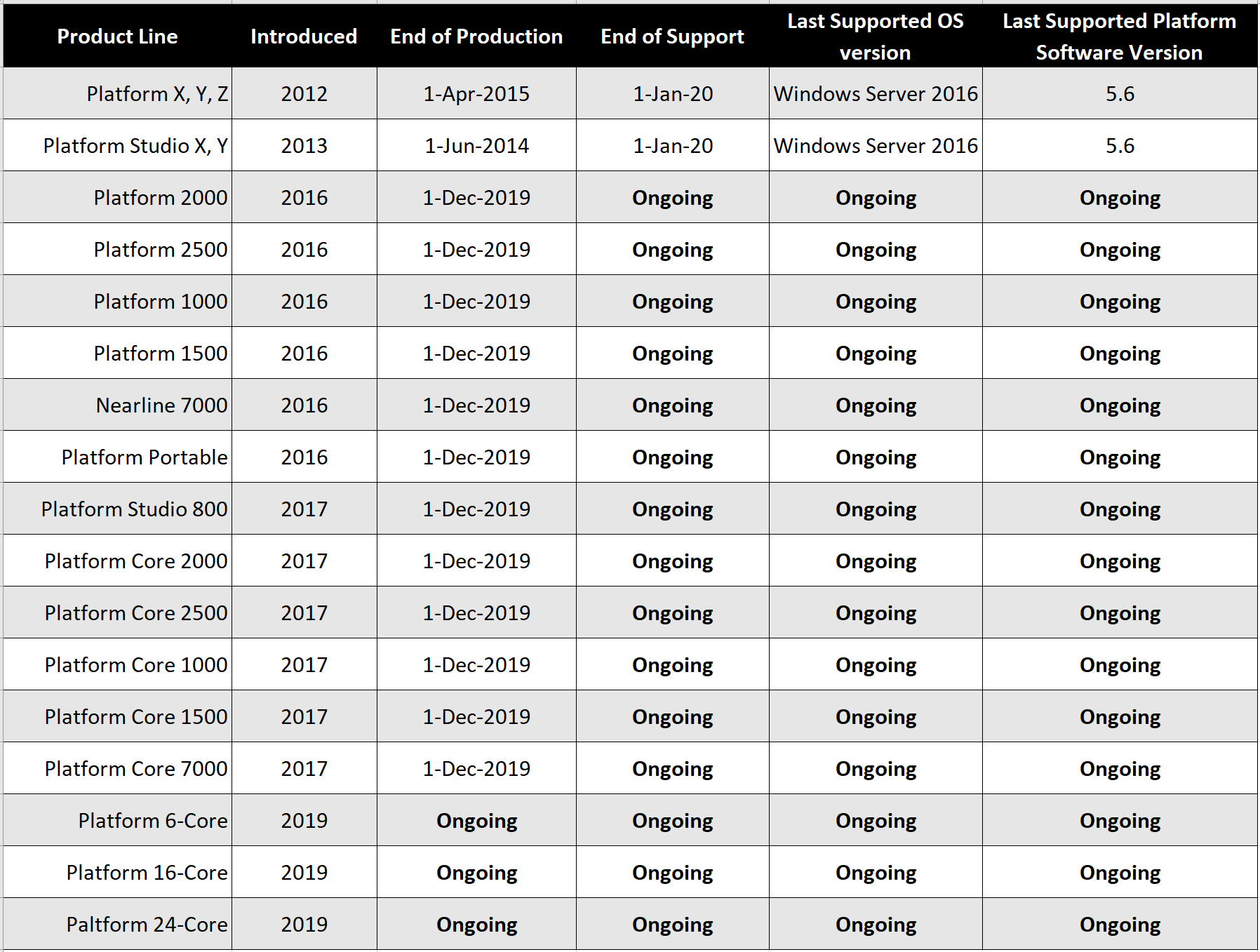 ProMAX Media Hub
The ProMAX Media Hub is a new product announced in 2019.