There are (2) methods of tape removal or if a tape is stuck or is not appearing in the Platform UI.
Method 1 (does not apply to libraries for ejecting)
Hold the eject button on the tape drive until the lights indicate a drive reboots. The drive should start cycling so the tape will eject or will appear again in the Platform UI.
Method 2
1. When logged into the Platform UI as an admin, navigate to the settings screen general tab.
2. Scroll to the bottom to find the Task Services area.
3. Right-click on the Task Services and stop the service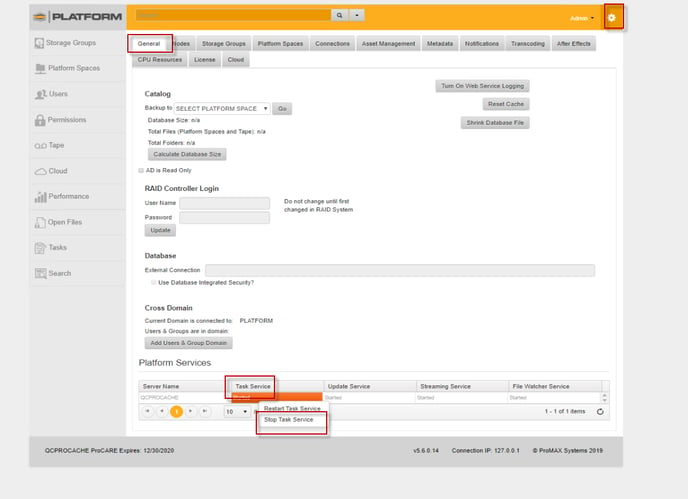 4. Once the services is stopped, if you navigate to the Tape Tab, the drive should disappear and prompt an error.
5. Navigate back to the same settings screen (another error will prompt that can be clicked ok to clear) and right-click the Task Services and Start Services.
6. The Tape Tab should start to populate the again once ready.
**If tape was meant to be ejected and appears in the UI, you may eject using the UI however if the tape remains stuck in reading or error mode, you may need to repeat process to then gain access to the tape module and eject before the tape starts to read again.