Pre-Installation Requirements

Overview

This document describes the pre-planning procedure to be used when installing a Platform system (using the standard version of Microsoft Server 2012) that will connect to an existing Domain running Active Directory. In this configuration, the Platform will not operate as a domain controller.

Steps to be completed by the Client IT Department

Please note that while these policy recommendations listed below are "default domain" and "default domain controller" policy changes, they can be applied to individual OU's as needed and are not required to be changed at the default level.
1. Create an Domain account specifically for the Platform
Account must be an active domain account that can read AD
Remove password expiration for this account
Account does NOT need to be a domain admin account.

Account must be allowed to logon as a service

Account must be allowed to logon as a batch job

Account MUST be able to run PowerShell on the local Platform System as local Administrator.
Connecting Platform to an Existing Domain

Configuration Preparation
You must have access to the following accounts in order to proceed with the installation:
⦁ Domain Administrator – "Existing Domain Admin Account"
⦁ Domain service account for the Platform – "Platform Service Account"
Prior to beginning the installation, confirm the following:
⦁ The Platform is securely mounted in a rack/seated and power is connected.
⦁ A Mouse, Keyboard, and Monitor are connected to the Platform server.
⦁ No other external devices (USB sticks, USB HDDs, etc…) are connected to the Platform.
⦁ The Platform unit has physical connectivity to a network with access to the Domain it will be joining.

Step 1 - Join the Domain
1. Physically connect the Platform to the client domain via NIC2 (Internet)
2. Power on the system and log into Windows 2012.
a. Log into Windows with the following information
⦁ Username: Administrator
⦁ Password: Promax123

3. Join the domain using the existing domain admin account credentials

4.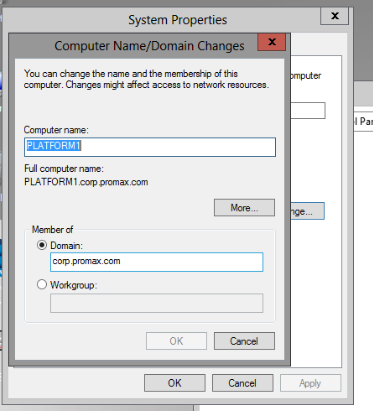 5. Reboot
Step 2 - Configure Platform Domain Users
6. Log into the Platform using the Platform Services account
7. Use the Computer Management option and select "Local Users and Groups"


8. Add the Platform Services account to Platform Server local Administrators group.
9. Add the Platform Services account to the local IIS_IUSRS Group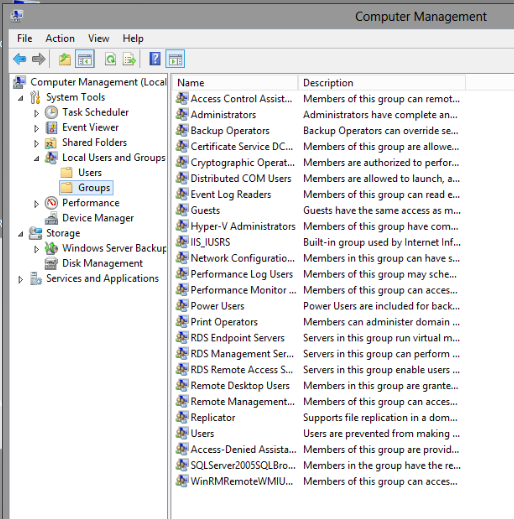 Once completed, your Platform server will be prepared for a remote installation supported by ProMAX Support teams. If you haven't already discussed your installation time, please reach out to ProMAX support at support@promax.com or (949) 346-1231.