The user options in the upper right hand corner of every Platform Space screen allows the user to quickly get access to the following features: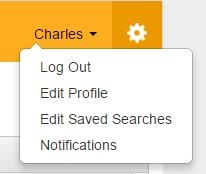 After selecting the Log Out option, the system will ask the operator to confirm the operation:

Yes: If the operator answers 'Yes', they will be logged off of the system immediately. However, any Platform Spaces that are mounted will remain mounted. In this case, they are only logging out of the Platform Interface and since these mount points are still active, the user may continue to use the access to the shared storage without restriction.
Yes, dismount all Platform Spaces – If this option is selected, the system will first attempt to dismount mounted Platform Spaces and then log the operator off of the Platform.
No – The system will cancel the request and return to the Platform Interface.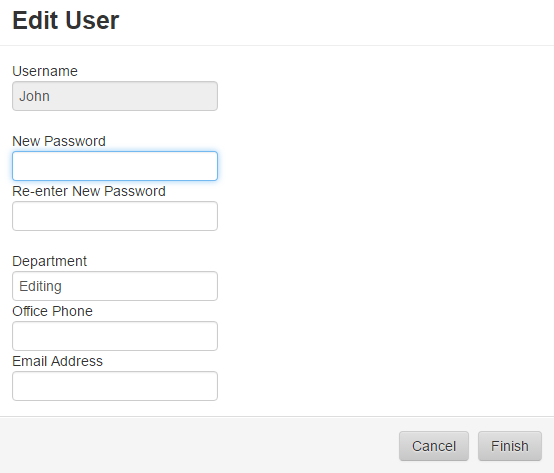 The Edit Profile option allows the operator to change profile information.
New Password – This will update the user's password in the Active Directory. Passwords must adhere to the password rules set in the Active Directory security policies.
Re-enter New Password – Required for update and both passwords must match.
Department – This is the department field in the Active Directory.
Office Phone – This is the office phone number defined in the Active Directory
Email Address – This is the email addressed defined in the active directory. This address will be used when sending notifications to the user when email notifications have been specified (see below).
The cancel button will disregard any updates made on the screen and return the user to the Platform Interface.
When the operator selects finish, the system will attempt to commit all of the operator's changes and then close the window.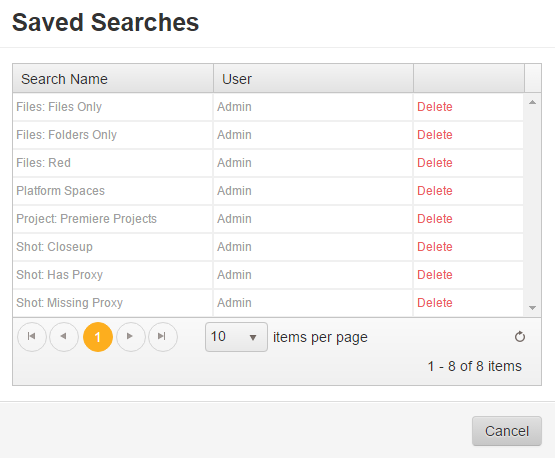 After selecting the Edit Saved Searches option from the user options menu, the system will bring up a list of Saved Searches. This list will include all searches created by that user and all public searches defined by others.
Currently, the system only allows the user to delete an existing saved search. If the user wishes to update a saved search, they will use this screen to delete it and then recreate the search in the Save Search Window.
This window will allow users to see a historical list of notifications sent to the logged in user. Each time a notification (Pop-up or Email) is sent to the user, it is also logged in this list. This gives the user the ability to review prior notifications from the system.