Some 8-bay and 12-bay Platform systems and 8-Bay Studio systems running on the X299 Motherboard Platform require special handling to update to v5.6.
Overview
Platform systems utilizing the X299 chipset (some Platform 1000/1500/Studio systems from with Mid 2018 ship-dates and newer) require special handling to successfully update to Platform version 5.6 and beyond due to licensing changes that affect this motherboard differently than others. If you think this may affect your ability to update, please review this document to verify if your system falls into this category and how to update successfully.
Because of this licensing change currently all x299 Motherboards systems will show an expired ProCARE date and will not be able to update via the web update process. Only the process outlined below will allow those units to update to 5.6 or higher.
How do I verify if my system is affected?
If your system is a Platform 1000, Platform 1500, or Studio class system shipped in mid 2018 or newer, it's likely this licensing change affects your unit.
You can easily verify if your unit contains an X299 based motherboard by examining the rear of the system and comparing the I/O Plate of the motherboard to the image below. If the layout is an exact match, then please proceed with the process outlined below.

What do I need to do to update successfully?
In order to update beyond version 5.5.1.5 and into v5.6 or higher, please follow the instructions below.
IMPORTANT: During this update process you will need to speak with ProMAX support directly via phone or email to receive new licensing information. If you run the update before you receive the new license directly from ProMAX your system will be inaccessible until that license is received and applied. It is highly recommended that you reach out to ProMAX Support at Support@promax.com or at (949) 861-2700 in advance to plan and schedule this update prior to ensure that you have minimum amount of system downtime during the update process.
Updating the system will require 4 parts:
Preparing the update data (This stage can be completed without interrupting your existing Platform operations and before contacting ProMAX Support)
Launching the Platform Installer Console
Running the Home/Sub Webservice Updates
Licensing your new Platform Upgrade
Upgrading your Workstation Client Listener Software
Preparation for Update
The following steps may be performed without altering or bringing your existing Platform system offline.
Download the following utilities onto your Platform Server desktop
Platform Machine ID Generation tool
Platform License Key Validation tool
Generate your Machine ID
Download and run the Platform Machine ID Generation Tool. This will generate a large ID number like the following:

Contact ProMAX Support
Contact ProMAX Support at (949) 861-2738 or via email at Support@promax.com. Please be prepared to provide the following information:
If reaching out via email, please title your email "License Key Request" to ensure priority response.
Include the name of the purchasing company or organization.
Include the Serial Number from the metal tag on the rear of the system.
Include your original purchase date.
Include the Machine ID from the previous step.
State whether you have an LTO device connected to the system.
ProMAX will take this information and provide you with a License Key that will look like this:
Licc3iUyIvYYCgK0WCHQ6lANcgAwAH0AQAB4ADIAMAAxADQAIPA=0x9
ProMAX support hours are 5a-5p US Pacific time, Monday-Friday.
Download the following Software Update Package to the Platform Desktop
Platform v5.6 Standalone Console Installer Package (547MB)
Install the Platform v5.6 Standalone Update package
NOTE: Running this installer package does not offline your Platform system. This action unpacks and stages the update for full deployment in the subsequent steps. Your Platform and users may remain online during this step.
Run the installer package
Say "Yes" to update the server installer package

Follow the prompts and answer "Next" and "Yes" where applicable to update the Platform deployment console to v5.6 in preparation of running the full update process.
When the installer completes it will ask if you want to restart the server at this time. You may select "No" if you are not ready to offline the system and proceed with the full update yet.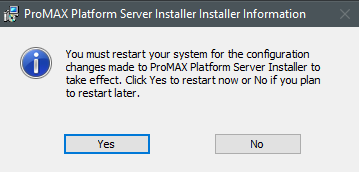 Launch the Platform Update Console
IMPORTANT: If you have not received a new license key from ProMAX Support DO NOT continue or your server will be inaccessible until a new key is received and entered.
On the Platform desktop, navigate to the following folder:
c: > Program Files (x86) > ProMAX > ProMAX Platform Server Installer
Run the ProMAXConsole.exe file.
Say "Yes" to the User Account Control question:

When the Platform Console launches, check the upper right corner and ensure that the version is v5.6.0.30 or higher.

Run the Platform v5.6 Home/Sub Webservice Update
This process will update of the Platform Software to v5.6. Performing this update process will offline your Platform system.
Once your Platform Reboots, again navigate to the following directory and launch the ProMAXConsole.exe file.

c: > Program Files (x86) > ProMAX > ProMAX Platform Server Installer

Once at the console, select the "Deploy Home and Sub" option

Answer yes to the following question:

Enter your Platform Admin PW (Default is "Promax123"):

NOTE: If your system is connected to an External AD server you will need to be logged into the Platform as the primary platform service account and will be required to provide that account PW in this dialog to continue.
Check that your Platform service account name is populated in the User dialog box, and click "Okay"

The Home and sub webservice update will now begin and the console will display information.
NOTE: The console will become unresponsive for several minutes during the deployment, this is normal.
After several minutes, scroll to the bottom of the console and check the status. The last line of your update should read "Success!"
NOTE: If you cannot scroll down, please wait, as the update is not yet complete and the console is still locked out.

You may now close the Installer Console.
License your new Platform Upgrade
Run the Platform License Key Validation tool that you downloaded to the Platform desktop during the preparation phase.
Enter the License key(s) you were provided from ProMAX Support. If you have an LTO device attached to your Platform and have a LTO license, you will need to run both keys provided to you, one at a time.

Press "Validate". You should be presented with the following message.

Reboot your Platform server one last time to resume normal operation running V5.6
Upgrading your Workstation Client Listener Software
Now that your Platform server is updated to v5.6 or higher, be aware that all client workstations will require a Platform Listener Update. For instructions on how to update your Platform listener on individual workstations, please see this knowledge base article:
Where can I download the Platform Client Listener software for my workstation?
Help and Support
If you get stuck, something appears to go wrong, or you have questions you'd like to discuss before your update, please reach out to ProMAX Support M-F 5a-5p Pacific time at Support@Promax.com or via Phone at (949) 861-2700.