The Storage Group tab is used to set up default options for Storage Groups connected to the Platform network.
By default, maintenance is performed on each storage group attached to the system nightly at 10:00 PM. Each storage group can have its only maintenance time and/or can be deselected. To set individual storage group maintenance, the administrator will use the Storage Groups screen.
In order to change the default maintenance time, the administrator can choose the Edit button from this tab.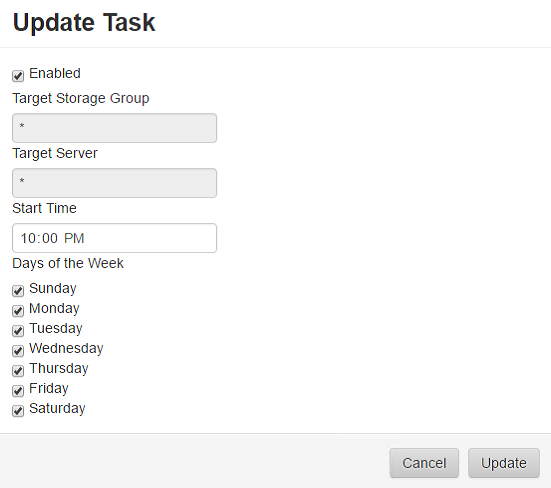 Enabled – Checking this box enables maintenance to be run on all storage groups.
Target Storage Group – the '*' indicates that all storage groups connected will have maintenance run on them.
Target Server – the '*' indicates that all Platform Nodes on the network will be affected.
Start Time – The time that storage group maintenance will automatically begin.
Days of the Week – a check box for each day of the week that maintenance should run.

When this option is selected, any storage group that is connected to the Platform will automatically have all its Platform Spaces re-indexed. This option is valuable when working with a Platform System that uses remote storage like USB or Thunderbolt drives. In these situations, when users add data to the drive on another system and the reconnect it to the Platform, that information will not be included in the Platform Catalog. This option insures that as drives are reconnected, the index is kept in sync.