Platform's Adobe Premiere Pro® interface is designed to allow media creators to harness the power of the Platform within Adobe Premiere Pro. Key features include:
Powerful Searching - The ability to use the Platform's powerful search engine to search across the entire Platform Network for specific assets. Utilizing the custom metadata fields, powerful searches can be created and saved that increase productivity in the media creation process.
Media Import and Timing Dragging – Media can be easily imported or easily dragged directly to the current timeline.
Data Management – The ability to copy files / folders from server location to server location including the ability to initiate tape backup operations right within the interface.
Transcoding & Proxies – Initiate jobs on the Platform Server to create proxies on high-res media or generate final output on the server with the transcoding option.
The Platform Panels interface must be installed on each individual workstation and is accomplished when installing the Platform listener.
Before starting Adobe Premiere Pro®, the user must be logged into the ProMAX web browser. Currently the panel interface does not allow the user to login to the ProMAX Platform. If a user starts using Adobe Premiere Pro® before logging into the interface, they will receive the following message in the panels window:

After logging into the Platform using the web browser, the user can simply click on the 'Done' button and they will see the normal panel interface listed below.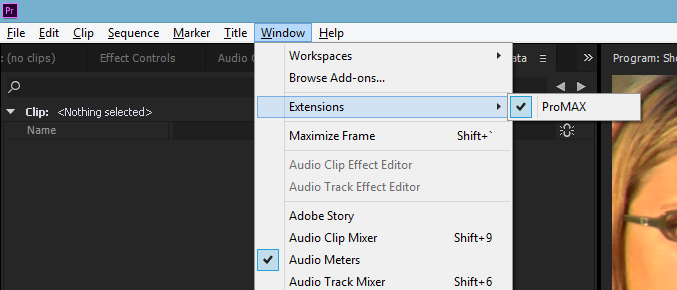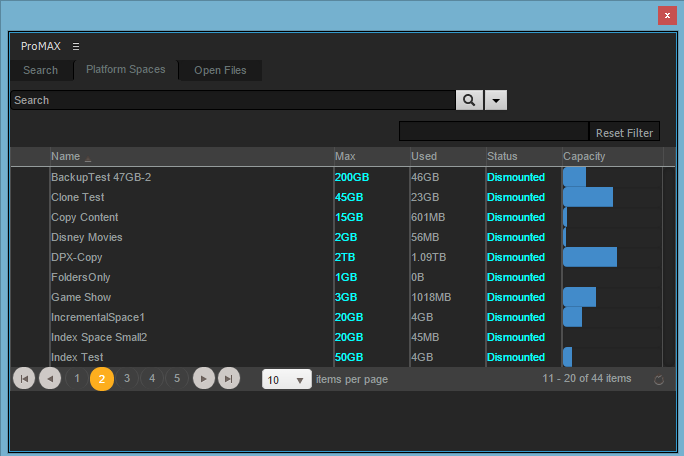 After starting the editing application, the user must enable the ProMAX Platform Panels Extension by clicking the 'Window' menu and then choosing 'Extensions'. Select the 'ProMAX' extension and the system will open the Platform Panel.
The panel can be docked to any location within the Premiere interface by clicking and holding on the panel bar and dragging it to another panel location.