The restore is initiated from the Search Results screen. Once files, folders and/or Platform Spaces are selected for restore, the restore window will open.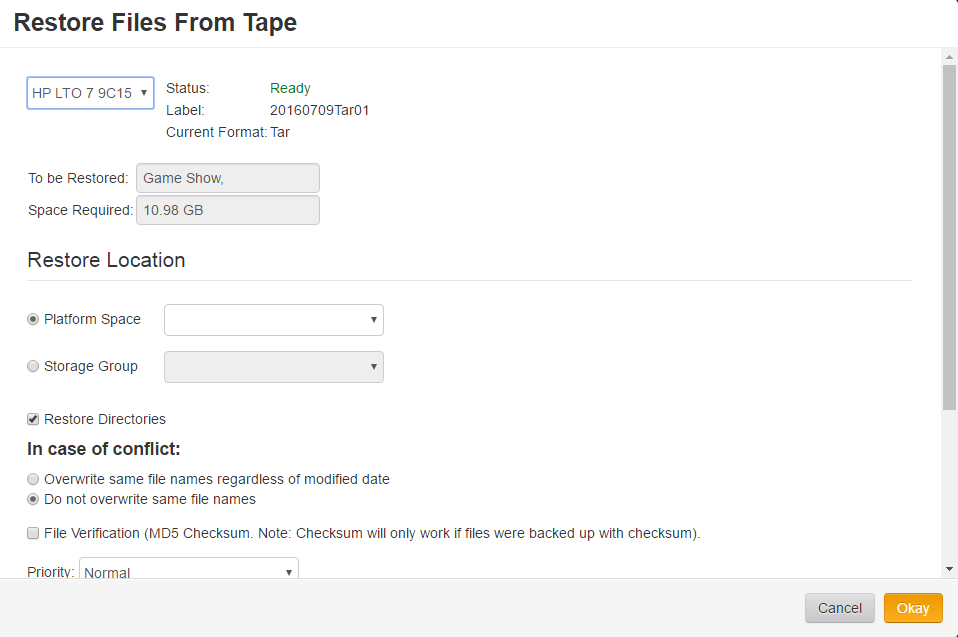 Tape Drive. The first drop down field is the tape drive. When multiple tape drives are connected to the Platform Network, the operator will choose which tape drive has the tape for the files to be restored.
Status. The current status of the tape drive. Note that because jobs can be queued in the task service, this is only describing the tape status at the current moment in time.
Label. The label of the current tape in the tape drive.
Current Format. The format of the current tape inserted into the drive selected.
To be Restored. This box shows a few files in the list of files or Platform Spaces that have been requested for restore. It will not be a comprehensive list of the restore request.
Space Required. Platform will calculate and estimate the total size of the files to be restored. This is an estimate only, however, it provides the operator an idea of how much space they will in and will allow them to properly select a Storage Group or Platform Space for the restore.